SIMETRY MAKES

IoT DATA

SIMPLE
End-To-End Iot Connectivity Solutions
Simplify IoT data plans, device management, and support with one unified vendor.
Better IoT Data Rates For All Carriers
Under One Roof
+ Additional Tier-1 Carriers
What can
you

do with

SIMETRY

?
THE CUSTOMER-CENTRIC IoT DATA PROVIDER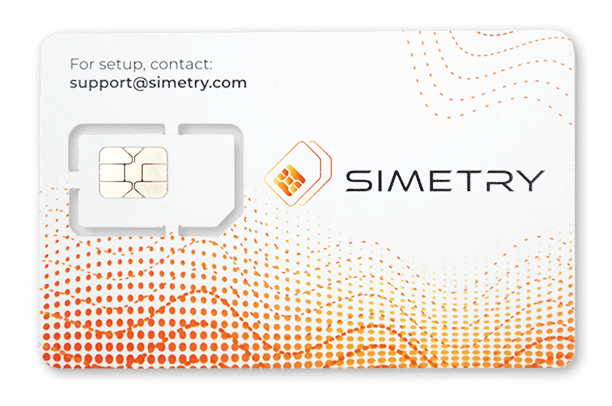 Combine your total cellular data usage from all carriers into one IoT data plan.
Get a transparent data plan that reflects your total cellular data usage across all carriers.
Get tier-1 data from the major carriers and superior support from SIMETRY.
Remove support wait-time and throttling from the equation with business-level data.
Track and control your fleet of IoT devices from one unified platform.
Set usage limits, detect anomalies, and see data usage across carriers in one place.
Cellular cyber security and content filtering is just one point of contact away.
From private APNs to network provisioning, it is simple to add services to your SIMs.
Talk with your dedicated account manager, no escalation needed.
No need to contact multiple vendors for support, simply contact your account manager.
One-stop-shop for hardware, provisioning, IoT SIM cards and licenses.
Shop modems, boosters, antennas, and get bulk pricing from your account manager.
Start Simplifying Your IoT with SIMETRY
Move faster

& pay less per GB
WITH ONE UNIFIED IoT PROVIDER
+ Additional Tier-1 Carriers
Above-and-Beyond


Single-Carrier Support
SIMETRY provides reliable single-carrier connectivity with trusted tier-1 data carriers.
The difference? Superior service with transparent rates. Know how much you are paying per GB of data across all carriers.
Consolidated


Multi-Carrier Services
If your fleet of IoT devices spans multiple carriers, SIMETRY will consolidate your data, device management and support.
Our customers save money and get superior support with one consolidated vendor.
Scalable IoT data plans + the simplest cellular IoT platform
FOR ANY IoT DATA APPLICATION • ANY LOCATION
BRING YOUR IoT DEVICES TO LIFE
Turn-key connectivity solutions for all industries
Touch-less

SIM Activation
We make it easy to transition to SIMETRY. You don't have to physically swap every SIM card already in the field. We can transfer SIMs that are already in-use to your new account, pain-free.
Verizon IoT, AT&T IoT, and T-Mobile IoT SIM cards
In addition to IoT, Ruggedized, CATM1 SIMs from the big carriers, SIMETRY offers Multi-Carrier SIMs which switch between multiple carriers for an ideal mobile solution.
SIMETRY makes eSIM cellular connectivity simple
We offer the same great rates and services for IoT eSIMs. Sometimes called "virtual SIMs", eSIMs are physically embeded onto the motherboard of an IoT device.
Drastically improve IoT device and cellular data management with our unified SIM management platform.
Track data usage from sensors, routers, and anything connected to your cellular IoT network.
Simply log in to your dashboard and get real-time updates on your SIM fleet's data usage, limits, spend and more.
"We were spending well over $1,000 a month with AT&T, not to mention Verizon to keep our sites connected. I happened upon Simetry one day doing a Google search for alternative providers. I filled out a quick..."
"Simetry has been a great partner. Super fast delivery and response. Highly recommended for any companies looking for a wireless data solution."
"Simetry has helped our business manage thousands of device subscriptions. They understand the IoT world and don't treat us like a cell phone customer. Simetry has competitive pricing and excellent personalized service, I would recommend..."
SIMPLIFY

IoT WITH SIMETRY
A dedicated account manager will contact you as soon as possible.
Estimated time to complete: under 1 minute.